Just for the Speeders
If you have one these.
Then You Need One of These.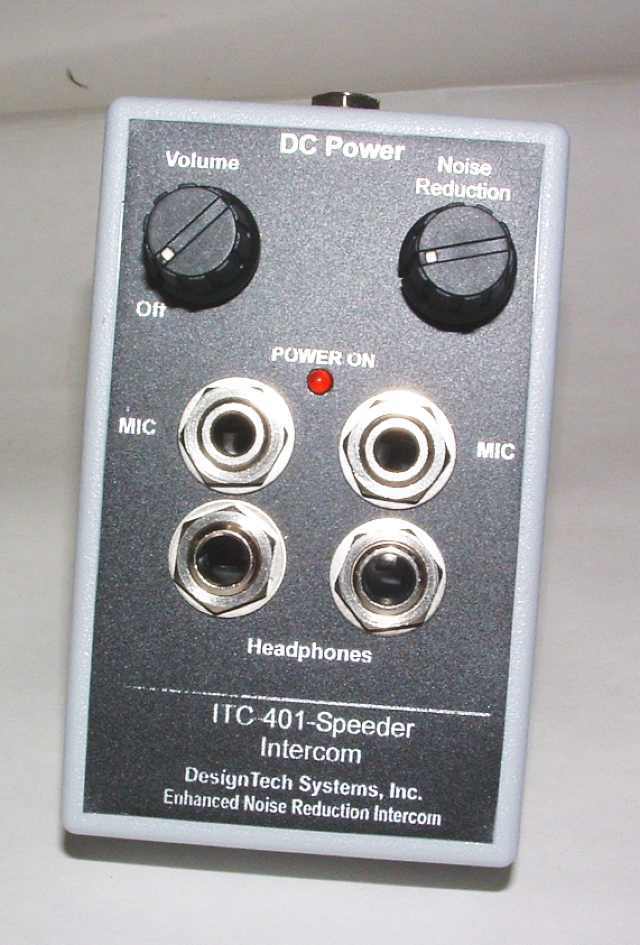 After several Speeder owners tried and liked our intercoms, we decided to design a model just for the Speeders. Built around our exclusive Noise Reduction Technology and with features requested, the ITC-401-Speeder is the ideal choice for in-car communications. Read below what current FlightTech Intercoms have to say about their Speeder installations.
Features
Exclusive Noise Reduction, No Squelch controls to fiddle with.
Works with General Aviation Headsets.
9 Volt battery power
External DC power with power cord included.
Small Size, 4"x2.4"x1.5"
Can be interfaced to most radios
Three year Warranty
Made in the USA
Contact factory for price and availability.
Need more than two stations?
The New ITC-2004SPEEDER is for you.
The new ITC-2004SPEEDER is a spin off from our popular aviation ITC-2004, but reconfigured to meet the requirements for railroad car operations.
Features include,
No Squelch background noise reduction technology.
Noise free communications.
Four Stations.
Use General Aviation Headphones.
External DC power Jack, 12 to 28 VDC operation.
Internal 9 V battery operation, battery now included.
Auxiliary Stereo Audio Input Jack.
True Stereo Audio to Stereo Headphones.
Aux Audio mutes during Intercom Communications or Radio Audio.
Compact size, 5.6" x 3.25" x 1.5"
Can be interfaced with most radios.
Available with built-in Motorola Spectra Receive Audio Interface*
*For use with the Motorola Spectra series radios, order part # ITC-2004Speeder-M.
---
Order On Line through PayPal.
Select from the Drop Down Arrow
---
I want to let you know how happy I am with my Flighttech ITC-404SP intercom. My application is not the "Normal" installation. My intercom is in a Speeder, also known as a Railroad Motorcar. I had some questions about my application and I got very fast and good information. It is a vast improvement on the original installation of another brand I first had. I would not hesitate to recommend your product to anyone needing an intercom, whether it is going to be installed in an aircraft, a railcar, or any other type of vehicle.
Thank you. Rod
My application is not exactly an airplane, it's installed in a railroad motor car, also known as a Speeder. The car is an aluminum box on steel wheels, that is very noisy at track speed, due to the noise from the engine and from the steel wheels banging on the rail joints.
I tried two other intercom brands, one had a manual audio squelch and the second had an automatic audio squelch. At track speed, normal conversation was impossible with these intercoms. I recently purchased the ITC-401TC intercom system. The intercom works very well, virtually eliminating the background noise from both passenger and radio communications. I would recommend the ITC-401TC to anyone considering installation of an intercom system into a railroad motor car.
John Reynolds
---
DesignTech Systems, Inc. Downers Grove, IL.
630-324-8199
Email: info@flighttech.com
Not available through dealers at this time.
Contact DesignTech Systems, Inc. for available radio cables and prices.